Stepping Into Kindness - Community Art Initiative
May 17, 2021 through June 6, 2021
|

Center Court
---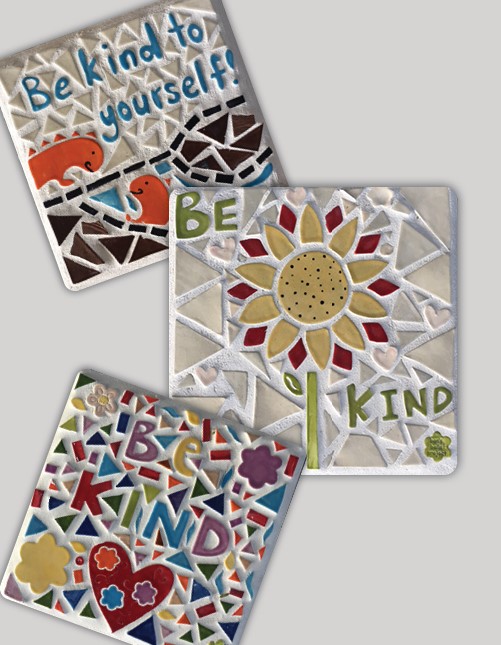 Stepping Into Kindness - Community Art Initiative

Danbury Fair and Ben's Bells Project teamed up for a special art project to reflect what kindness means in our communities. Twenty-five local artists submitted drawings that were selected to be made into custom mosaic Ben's Bells stepping stones. These stepping stones will be displayed at Danbury Fair in center court, May 17 - June 6!

VOTE FOR KIND
During this time, the public will have the opportunity to vote on their stone and the top 3 stepping stones will receive a gift card from a Danbury Fair retailer valued up to $200.
Double Point and Triple Point weekends! Vote on these weekends and your vote will count double or triple:
May 15 & 16 DOUBLE POINT WEEKEND
May 29, 30, 31 DOUBLE POINT WEEKEND
June 5-6 TRIPLE POINT WEEKEND
KINDESS CELEBRATION - JUNE 5-6 - 12N-4P each day
Saturday and Sunday, June 5-6, enjoy weekend long activities to celebrate kindness! Including balloon art, special mall discounts, Ben's Bells craft and Gift With Purchase. Every Danbury Fair in-mall purchase of $150 or more a guest will receive a $20 gift certificate to Barbarie's Grill. Items must be purchased on June 5-6 and can only be turned in between 12-4PM at the event.
Stepping stones will be auctioned off to the public from June 5th - 6th in support of Ben's Bells intentional kindness programming in the community. All proceeds benefit Ben's Bells.

American Red Cross Blood Drives
Now through September 30, 2021
Due to the recent pandemic the need for blood has risen. Danbury Fair is partnering with American Re...