Retail and Takeout Dining Available*
---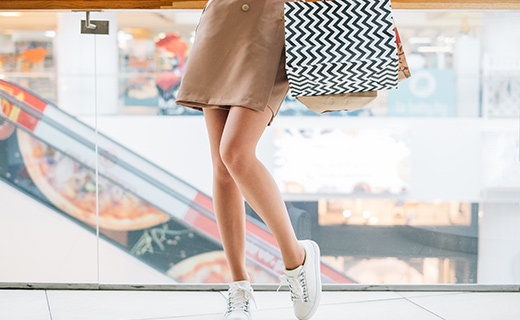 We Can Do This Together
We continue to promote a healthy shopping environment for our guests and employees through intensified cleaning procedures and proper social distancing signs. We've missed you and look forward to seeing you again soon! More details on our cleaning procedures available HERE.
Some stores have additional safety protocols in place; please contact the store directly for guidelines.
CENTER HOURS: Monday - Saturday: 11am - 7pm. Sunday: 12pm (noon) - 6pm. Some retailers will be operating different hours. Please call ahead to confirm.
Curbside Pickup:
Need Something Now? Pull up. Pop your trunk. Leave with your purchases!
Curbside Pickup is now available daily for select retailers and restaurants. Contact the store interested in directly to find out merchandise availability, payment options, and to place an order.
Please remember to stay in your vehicle while you wait for your package.
Hours: Monday - Saturday: 11am - 7pm. Sunday: 12pm (noon) - 6pm.
Location: All three main mall entrances. Upper Level between Dick's Sporting Goods and Arhaus; Upper Level between L.L. Bean and Williams-Sonoma and Lower Level of the parking garage.
The following retailers are offering curbside pickup only at this time. All other retailers will provide the service. Please call ahead.

LUSH - 203-744-5874

In-Mall Dining
Danbury Fair is now open for in-mall dining at limited capacity.Food Court seating is now available.
Please contact the following restaurants for availability and menu:
Auntie Anne's - both locations - 203-207-9955
Chick-Fil-A Danbury Fair is now open for drive-thru ordering and pick-up outside by the main entry on the lower level by the garage from 11AM-7PM daily. Also, ordering is available on the Chick-Fil-A app and online HERE.
Charleys Philly Steaks - 203-730-1414
China Wok - 501-952-8339
Chipotle - 203-730-2989. Currently offering in-store pick-up and delivery. Dining is now available. Get more info HERE.
Cinnabon - 203-730-9098 Also available through Door Dash HERE.
Desert Moon Fresh Mexican Grille - 203-798-6629
Famous Cajun - 203-798-9019
Haagen-Dazs - 203-798-8242
Little Tokyo - 203-739-0015
McDonalds - 203-743-0052
Papa Tea - 203-743-5353
Subway - 203-798-2800 Now offers online ordering. Get more information HERE.
Starbucks - 203-798-8925 - Mon-Sat 10a-7:30p & Sun 11a-6:30p
The Cheesecake Factory - 203-743-6000. Currently offering pick-up and delivery. Restaurant dining inside and outside is open with limited capacity. Get more info HERE.
*Subject to change
American Red Cross Blood Drives
Now through November 19, 2020
Due to the recent pandemic the need for blood has risen. Danbury Fair is partnering with American Re...